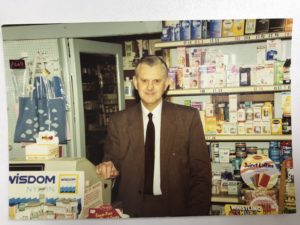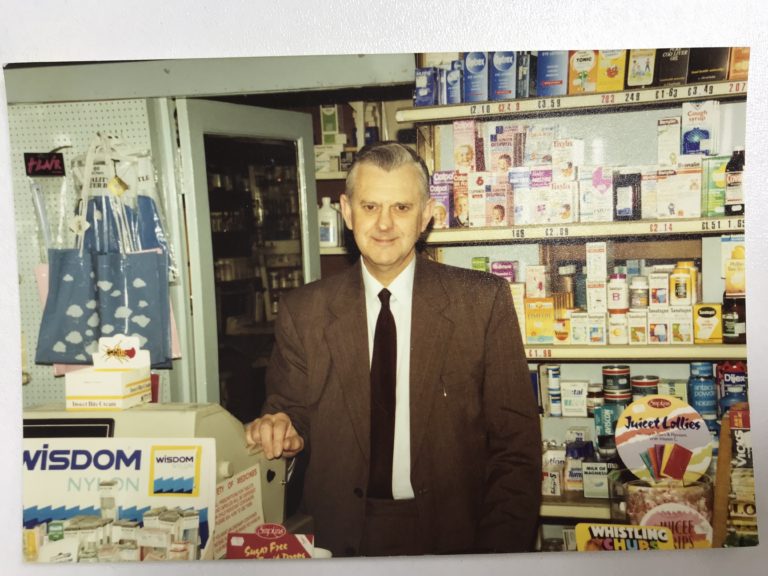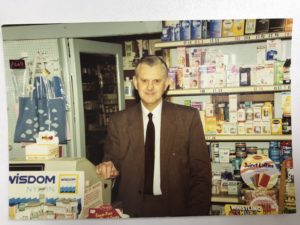 Sadly we heard the news last week that Mr Derek Edward Fisher, local Melin pharmacist had passed away. "Mr Fisher" as he was always known was, as his obituary stated, a kind gentle man. Born in the Melin myself we got used to frequent trips to the Chemist, where waiting for a prescription or advice you may be asked politely to wait while Mr Fisher finished his cup of tea. Its a bygone era now but also one of civility, duty and community spirit.
When I decided to study pharmacy, not having a clue where to get the supplies needed (pre-Amazon and pre-Google!) my mum asked Mr Fisher to help. It was with his kindness and support that I trundled off to Leicester to study my degree replete with a white lab coat, dissection kit and brand new BNF (British National Formulary – still the pharmacist's bible).
My intention was to work in industry and perhaps discover the next wonder drug! Little did I know the sequence of events over 12 years that ended up with me buying Fisher's Chemist and continuing his legacy at Briton Ferry Rd. Wendy Michael – dispenser stayed on with me and retired a few years ago having completed over 50 years of pharmacy service. She went on to qualify as a checking technician courageously dragged into the bright new future!
Wendy attended the funeral yesterday and said it was a lovely service with many funny stories of his life and times in pharmacy. She told me many over the years and how they compounded apothecary-style in the back room using chemicals that we'd be too afraid to deal with in today's health & safety culture.
Many of the artefacts moved to our new pharmacy home in 2004 as we relocated across the road.I never kept the Fisher name as some pharmacists do – I suppose I needed to craft my own story, but I love the heritage of the old brass scales, carboy and prescription books which continue his and others before.
To walk gently in this world and be of service is sometimes lost in a culture of instant fame and self-gratification. Mr Fisher walked gently but also left a mark for so many of us. A longtime customer of ours asked just the previous week "How is your father?" – I explained my beloved father Bill Sparkes had passed away many years before…."no mr Fisher I meant – I thought he was your father".
In many ways he was a Pharmacy father and I felt the end of an era so palpably on hearing the news…..our thoughts are with Mrs Fisher and family. It was a sad irony that I couldn't attend the funeral as I was covering holidays as pharmacist that day – somehow I think he would have understood – Duty calls!
RIP Derek Edward Fisher – Chemist, Briton Ferry Rd, Neath.